---
OpenPhone gives you a separate business line for $10 per month - The Verge
Posted: 03 Aug 2019 06:00 AM PDT
If you're a creative or other freelancer work, at some point you may start thinking twice about giving out your personal phone number to your clients or business contacts. Besides the possible privacy issues, do you really want your business connections to be able to call you at any hour of the day or night — and on the same number you give your family and friends? A new service called OpenPhone says it can solve that problem by providing cloud-based business numbers for $10 per month.
There are, of course, several cloud-based services that provide secondary phone numbers which can be used alongside your primary carrier-based number. To begin with, there is Google Voice, probably the best-known such service, which gives you a phone number that is associated your Google account. Voice has been available from Google since 2009 (when the original service, GrandCentral, was acquired), and is still free; however, it hasn't undergone a whole lot of updating since. Other services, such as Hushed and Burner, also provide separate phone numbers for reasonably low fees; they market themselves as alternatives for users who want temporary, easily deleted numbers.
OpenPhone, on the other hand, is pushing itself as a resource for independent workers or small businesses that want to separate their business and personal calls and texts. It distinguishes itself from Google Voice by touting its customer support, the availability of toll-free numbers, and the ability to have more than one number per phone. It is currently only available in the US and Canada.
How to register for OpenPhone
You can sign up either on the web or on your phone (if you choose to download the Android or iOS app first); I signed up on the web.
To begin with, you get to choose a phone number. You can select any US or Canada area code; be aware that some codes will offer more choices than others. You can also, if you want, choose a toll-free number, or even try to find a number with a word embedded in it — I was able to find a number that had "0GYM" as its last four characters.
Once you've chosen a phone number, you create an account, and verify it with your phone's carrier number (you can't use another VoIP number, such as Google Voice). You then have the option of providing your company name, number of employees and which industry you're in. (If you're just registering as an individual, you can skip this step.)
OpenPhone offers a seven-day free trial, although you do have to provide your credit card data in order to sign up. After the trial, OpenPhone costs $10 per month for an Individual account. A Team account, which costs $15 a month, adds a dedicated account manager and priority support.
And then, if you haven't already, you download the app to your phone, and you're ready to go.
A nicely simple UI
The interface is almost Spartan in its simplicity. The home page lists your recently-used contacts. If the person you want to contact isn't there, you can swipe left to tap in the phone number, or swipe right for the features list, which includes access to your contact list.
OpenPhone has its own contact list, which you can sync with your phone's. Once you've chosen the person you want to contact, you simply use the field at the bottom of the screen to send a text or the phone icon on the upper right to make a call. Records of phone calls and text messages for each contact are all on the same screen, making it simple to see all your previous conversations. You can also (via a menu) copy the number, block it or delete the conversation.
The apps has several nice options. One is the ability to set business hours; calls that come outside of your set hours will go straight to voicemail, and you can record a separate voicemail for those hours (such as "Our office is currently closed, but leave a message, and someone will call you back in the morning"). You can also forward calls to another number if, for example, you are going on vacation and want someone else to get the calls. A "Do Not Disturb" feature lets you temporarily mute calls.
You can have as many as five phone numbers associated with your carrier number (Google Voice only allows one). It's very easy to request another number straight from the features menu, but be aware that you'll pay $9.99 for each additional number.
I tried out OpenPhone and found that service worked perfectly well. In fact, the quality of the voice calls, using an internet connection, was better on my end than my usual Google Voice calls.
Can still be glitchy
Anyone trying out this service should be aware that it is still very new, and this shows. To begin with, the feature set is still a bit tentative. One example: OpenPhone boasts that it lets you you can link your OpenPhone number to your phone carrier rather than Wi-Fi or your data plan. However, there are still so many restrictions attached to this method that it's not really viable: you can't make outgoing calls, you can't attach more than one number to your carrier number, and it's only available for iOS phones.
In addition, there were a few coding glitches that popped up here and there. After my couple of calls, the names of the two contacts I had recently contacted were garbled together on the main page. Once I closed and opened the app, that resolved itself; still, something like that is a sign of an app still in development.
There are other cloud-based business solutions out there with more features, but they tend to charge $30 / month per user or more. For freelancers and startups, OpenPhone could be a good way to provide yourself with a separate business line. Just be aware that, since it's a startup, there could be an occasional hiccup along the way.
Vox Media has affiliate partnerships. These do not influence editorial content, though Vox Media may earn commissions for products purchased via affiliate links. For more information, see our ethics policy.
Health Care Buzz: Scams: Protection for "Do Not Call" - Twin Falls Times-News
Posted: 03 Aug 2019 12:30 AM PDT
The Federal Trade Commission has published some excellent ways to stop unwanted calls. Always report unwanted calls to the FTC at www.ftc.gov/complaint. Be a squeaky wheel so the FTC can "see" the magnitude of the issue.
Scammers do not care if you're on the National Do Not Call Registry. That is why your best defense against unwanted calls is to block the calls. What type of call-blocking will depend on the technology you are using — mobile, traditional landline or home phone that makes calls over the internet (VoIP).
Let's walk through some "nuts and bolts" for blocking unwanted calls:
If you answer your phone and it is a recorded message instead of a live person, it is a robocall. Report robocalls at donotcall.gov/. Remember, if you don't know the number that is calling, don't answer the call. Ever.
Don't trust your caller ID. We have previously alerted you that the scammers are getting more sophisticated by using local area codes and local 3-digit prefix. It looks local so you feel like it is safe to answer it. Wrong. (See Robocalls for the same guidance.)
How to register for the Do Not Call registration?
Learn more about what the FTC is doing to help consumers. Sign up through their webpage for ongoing FTC alerts.
We will be covering many "hot off the press" scams at the upcoming "Medicare 101, Social Security and Assistance for Seniors" free boot camp. Join us from 8:30 a.m. to noon Sept 28 at the College of Southern Idaho's Fine Arts Building in Twin Falls. All ages are welcome. No pre-registration required. More fun in Sept!
All articles and training material are available on the Patient Financial Navigator Foundation's webpage at PFNFinc.com.
Firewal Robo Call Blocker review - Macworld
Posted: 25 Jul 2019 12:00 AM PDT
According to The New York Times, upwards of 48 billion Americans were hounded by robocalls in 2018, an increase of 56.8 percent over the previous year. That averages out to roughly 150 scam, telemarketing, and unwanted calls annually for every adult with a phone—a number expected to balloon higher in the future.
That's precisely why a cottage industry flourishes on the App Store, supplying tools to combat this menace. Unfortunately, most call blocker solutions rely on outdated, ineffective blacklists, or worse yet, require users to do the heavy lifting by reporting rogue numbers as they pop up. A new app called Firewall takes the opposite approach: Whitelisting everyone you know and sending the rest to limbo.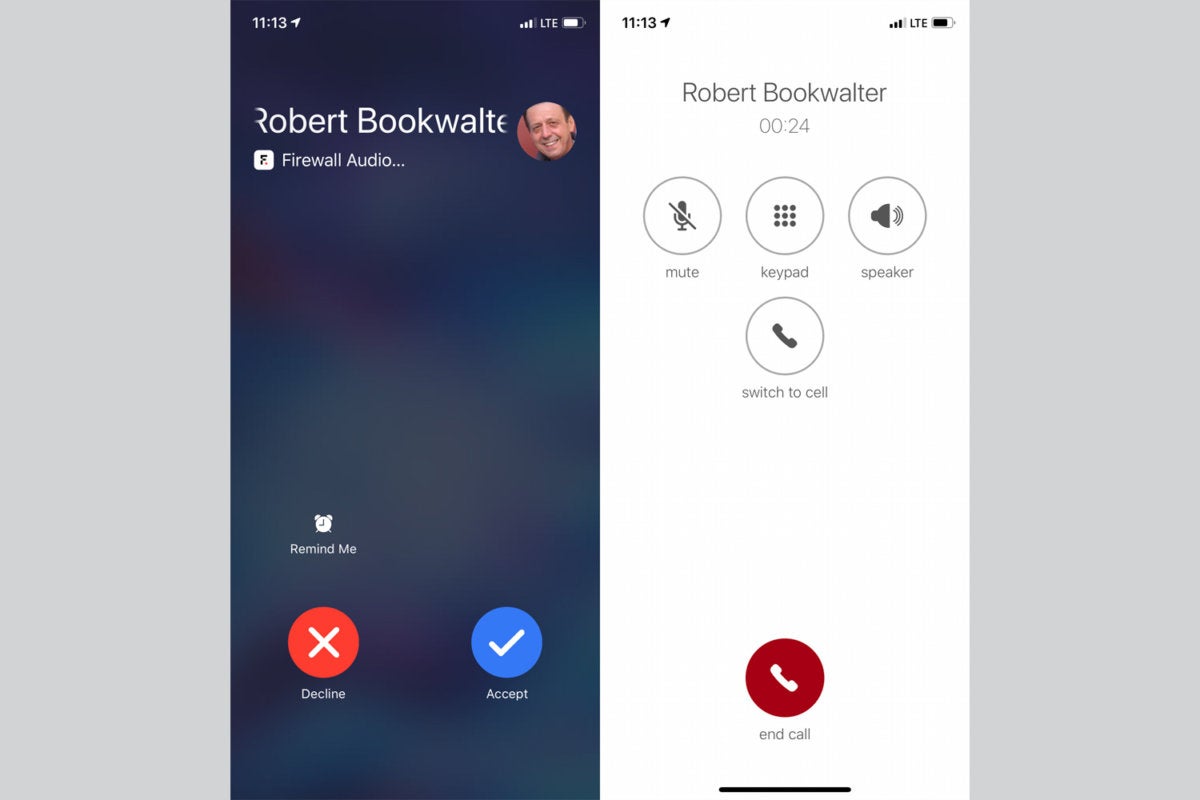 While that may sound like dropping a nuke on your backyard to get rid of a few pesky bugs, Firewall did a remarkable job of eliminating nuisance calls on my iPhone X. In recent months I've received a handful of daily intrusions, but after installing Firewall, they were entirely eliminated.
The app accomplishes this feat by forwarding incoming cellular (but not FaceTime) calls to the company's servers, where unknown numbers are vetted against multiple known spam databases. Anything that survives this first line of defense is then matched against a whitelist of your device contacts, with everyone else going to built-in voicemail.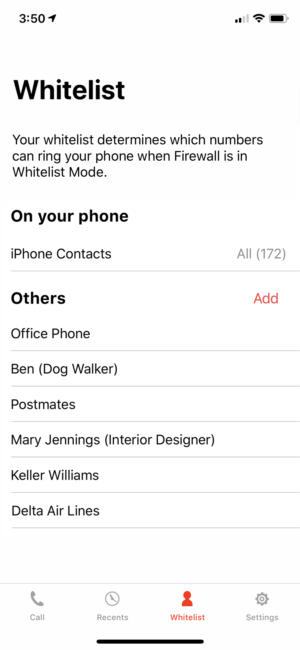 When active, Firewall emulates the look and feel of a traditional iPhone in-call experience. The app bypasses carrier-based voicemail, transcribing recorded audio with a far higher degree of accuracy than iOS or Google Voice—so good in fact, that you can understand every voicemail just by reading, rather than listening. Should a blocked caller turn out to be someone you know using a different number, they can be added to the whitelist in a couple taps.
A few caveats
Remarkable as Firewall is snuffing out solicitors, there are a few limitations worth noting. For starters, the app currently only works in the U.S. with AT&T, Sprint, T-Mobile, and Verizon. Intercepted calls are redirected to your iPhone using VoIP, which consumes cellular or Wi-Fi data rather than plan minutes.
You can get around this by tapping the on-screen "switch to cell" option, which reroutes the call-in progress to the cellular network. It's a little clunky but comes in handy while on unreliable wireless connections.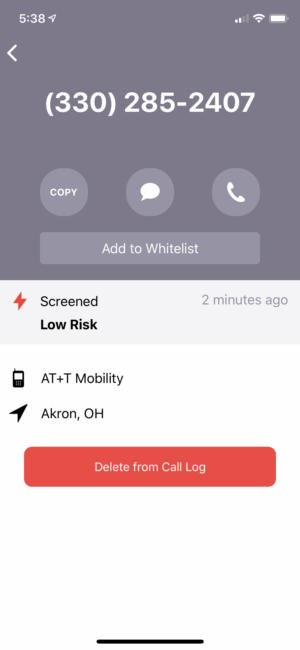 Also, you can customize what's spoken during voicemail greetings for whitelisted and blocked calls, but there's no way to record outgoing messages in your own voice.
Although contacts remain on your device at all times, the idea of forwarding incoming calls may give some users pause. For me, the satisfaction of purging robocalls was ultimately worth it. Firewall did miss a call from one of my contacts, but infrequent outages are routed to voicemail, with a push notification reminder to check recent calls.
Bottom line
Firewall is Kryptonite for unwanted calls and easily worth the modestly-priced monthly subscription for a little peace and quiet, assuming you don't mind entrusting incoming calls to a third-party app.