---
Is VoIP a good idea for small businesses? - Telecom Reseller
Posted: 12 Sep 2019 12:00 AM PDT
The answer to the question above is simple. Yes!

VoIP is a good idea for any sized business. There is a preconceived notion that only large organizations gain the advantage of using VoIP. However, that is not the case! 
Keep reading to hear 10 reasons VoIP is a good idea for small businesses. 
Flexibility and Scalability
VoIP is customizable to your business needs. It can grow (or shrink) as needed. When your small business grows into a large corporation, your communications solution will grow with you. 
No IT Team Needed
With VoIP, you do not require a fully trained IT team to manage your communications. The provider for your hosted VoIP solution will take support off of your hands. 
No Commitment

 
A long-term commitment can be scary in personal relationships and business relationships. Hesitation is common with large purchases, and many people are unaware that VoIP is purchasable on a month-to-month basis. No contract. No commitments.  
Cost-Effective

 
Hosted VoIP solutions are more affordable than on-premise solutions. You avoid a significant upfront cost, and the payment covers support, maintenance, and updates. If you prefer an on-premise solution, the system is deployable on your existing hardware and network. VoIP will also save your small business on domestic and international call charges. 
Convenience
Small businesses can focus on their day to day activities without worrying about their phone systems. VoIP is easy to use, and calls can be tracked, monitored, and recorded. Users can change their account information at their convenience, and one telephone number can be provided, with individual extensions for employees. 
Security 
Security should be a top priority for any business. But for small businesses, lack of security could mean the end of their company. VoIP is more secure than traditional phone lines. 
Increase Productivity
VoIP features like call recordings, CRM integration, archiving storage, and more will increase your employee's productivity. Users of VoIP can do more than making phone calls. 
Accessibility
VoIP users can make or receive calls from anywhere with an internet connection. Your employees are reachable from anywhere, allowing you to outsource to remote employees.
Quality
Quality and I cannot stress this next part enough, over quantity. The overall quality of your voice calls will vastly improve with VoIP. As long as your internet connection is stable, you will notice the difference in call quality, especially international calls. 
Additional Features
Chances are your VoIP provider will have unified communication applications that your business can implement. You can have all your communication channels from one provider, on one platform. 
Learn more about Bicom Systems VoIP solution by visiting our website. If you want to chat with a sales representative, send us an email to sales@bicomsystems.com. 
What Is SIP Trunking, and Should Your Business Use It? - Business News Daily
Posted: 18 Sep 2019 12:00 AM PDT SIP trunking can significantly cut costs and increase reliability for your business phone system.
To determine the right service for your business, you need to research and carefully assess your business's communication needs.
SIP trunking pricing is based on several factors, like your vendor and add-on features.
As a small business owner, you're always looking for ways to cut costs and optimize your business. SIP trunking is an increasingly popular way for businesses to minimize their phone costs and improve their telecommunication bandwidth, but it can be a difficult service to understand. We broke down what SIP trunking is and how you know if it's right for your business. 
What is SIP trunking?
To put it simply, SIP trunks are virtual phone lines that allow you to make and receive calls over the internet to anyone in the world who has a phone number. 
SIP stands for Session Initiation Protocol, a popular telephony protocol that initiates calls over the internet and is primarily used to manage multimedia communications, like voice and video calls. SIP establishes and terminates the connection for a phone call, controls the transfer of data, and is what enables services like Skype and Facebook Messenger to provide free calling anywhere around the world.
A "trunk" is a line or link that carries signals and connects nodes in a communications system – in other words, a pipe that carries the data channels inside it to connect two locations.
SIP trunking is a method of sending voice and other communications over the internet through an IP-enabled private branch exchange (PBX), which is a telephone system within an enterprise that switches calls between users on local lines while allowing them to share the use of external phone lines. A PBX cuts down on costs by avoiding the need for each user to have a line to a telephone company's central office. SIP can be used to send and receive local and long-distance calls, text messages, and emails; browse the internet; and conduct video chats.
SIP trunking replaces the traditional method of the public switched telephone network (PSTN), which is a copper-wire, circuit-switched network that requires a physical connection between two points to make a call. Instead, SIP trunks use a packet-switched network, which breaks down voice calls into digital packets and sends them over a network to their destination.
Editor's note: Looking for the right business phone system for your company? Fill out the below questionnaire to have our vendor partners contact you about your needs.
buyerzone widget
SIP channels
Each SIP trunk can hold an unlimited number of channels. A channel, or line, is equivalent to one incoming or outgoing call. Because each trunk can hold as many channels as necessary, a business would only need one SIP trunk – no matter how many calls you have coming in and going out at one time. The more phone calls you have running concurrently, the more trunk channels you will need.
When looking for a SIP service provider, make sure you have a good estimate of how many channels you will need to get an accurate quote, since many vendors only charge you for the number of channels you need.
SIP vs. VoIP
SIP and VoIP (Voice over Internet Protocol) are similar in many ways, but they cannot be used interchangeably. "VoIP" is a broad term that can describe any internet-based phone service (including SIP), but SIP is a specific protocol that enables VoIP by establishing start and end points and defining messages during a call.
Benefits of SIP trunking
The greatest benefit of using SIP trunking as your business phone system is that it is highly cost-effective. This is due to many reasons, but mainly because it eliminates the costs of long-distance calling. If your business often makes phone calls across the country or the ocean, SIP trunking may be the answer for you.  
Centralized network
SIP also eliminates the use of both data and telephone voice networks. Because SIP is IP-based, you can enjoy one centralized network with multiple digital streaming capabilities that is easily scaled and requires no physical infrastructure, which means no maintenance or hardware costs.
The removal of the PSTN gateway allows the SIP trunk to connect directly to your chosen internet telephony service provider (ITSP), removes subscription fees, and gives you greater flexibility in how you scale your telecommunications services by providing more bandwidth increment options at lower rates.
Local call charges
A SIP trunk enables all calls to be local calls by carrying them over the internet, avoiding the costs of international or long-distance calls. The SIP trunk sends the call to the provider's termination point, where the call is transferred to a local PSTN, therefore only charging you for a local call.
To compete with ITSPs, many SIP trunking providers have added services such as ENUM, or telephone number mapping, which allows you to use the same phone number no matter where you are in the world. They also offer the elimination of 800 numbers by providing a local number based on your location.
Scalability
SIP trunking is flexible and easily scalable, with an unlimited number of channels allowed per trunk and no physical installation or setup necessary. New channels can be added and enabled within hours.
Disaster recovery
SIP trunking services tend to be far more flexible and resilient than legacy phone systems in a disaster Whether it's a network failure, natural disaster or hardware problem, most services will have measures in place to make sure you can still place calls. These may include geographic redundancy, routing calls to different locations or data centers, or dispersed network operating centers.
Your SIP trunking service will also help you create a disaster preparation plan on your end, including steps such as routing your calls to a different predetermined number, using a backup trunk provider, or having a cloud system ready for backup.
How to implement SIP trunks
To transition from a traditional phone service to SIP trunking, start by determining how many channels you need. This will depend on the size of your business and how many phone calls you think will be going at once.
For example, companies with 100 people or more should follow the 3-to-1 rule: For every three employees making calls, you should have one SIP channel. Companies with fewer than 100 employees will need more channels, because you are more likely to have multiple people using the phone at one time in a smaller office.
Next, assess whether you have enough bandwidth and a robust enough network to support a SIP service. Also take inventory of whether you will need to replace any desk phones with SIP-enabled IP phones.
Once you have an idea of the number of channels you'll need, you can start collecting quotes. Some of the best SIP trunk providers are 8x8, RingCentral, Jive and Nextiva.
Be sure to ask about a Session Border Controller (SBC), which acts like a firewall for SIP traffic and provides security against hacking and denial-of-service (DoS) attacks.
SIP trunking pricing
When you call vendors for SIP trunking prices, be sure to ask about setup fees, required equipment and monthly service fees. Most businesses can expect to save around 75% on telecommunication fees by switching to SIP trunking. The prices you're quoted will also vary, depending on how many IP-enabled handsets you will need and if you want to add extra features like video conferencing or forwarding to mobile devices.
These will be your main costs for SIP trunking:
Subscription, which includes the price per channel
Calling rates, which is the cost per call or per minute for outbound calls
Add-on costs for extra features
Setup fees
For SIP trunking services, the average outbound call rate in North America ranges from 0.5 cents to 3 cents per minute. The average cost per channel is between $1.67 and $15 per month. Unlimited SIP trunk channels range from $19.99 to $29.99 per channel.
A cloud-based VoIP system can cost anywhere from $10 to $75 per user per month, whereas a traditional, on-premises phone system can cost several thousand dollars in one-time fees for equipment and installation and several hundred or several thousand dollars in monthly fees, depending on your call volume.
Go back to the basics with a glossary of VoIP terms - TechTarget
Posted: 24 May 2019 12:00 AM PDT
The ability to pick up a phone and talk to someone on the other end is essential to any organization. In the land of unified communications, voice over IP is how many telephony interactions happen.
VoIP is a collection of methods by which voice information is captured and changed into data packets, which are sent to an endpoint using an IP network. When the packets arrive at their destination, they are reassembled and translated back into audio. Using IP networks to transmit and receive voice data eliminates the need for costly network infrastructure by enabling voice and data to operate on the same network.
This glossary covers many of the VoIP terms and acronyms that are essential to understanding IP-based voice systems. Review these terms to brush up on your telephony knowledge and better understand your voice system.
VoIP terms
IP telephony. IP telephony stands for Internet Protocol telephony and is a system where voice information travels along packet-switched IP networks instead of traditional, dedicated, circuit-switched connections. Voice, fax and video information travel as packets of data through packet-switched connections that skip the tolls of traditional phone lines. VoIP is considered to be the standardized version of IP telephony, and the two terms are used interchangeably.
IP PBX. Internet Protocol private branch exchange is a telephone switching system within an enterprise for VoIP calls. An IP PBX can switch between VoIP lines and traditional phone lines or even between two traditional telephone users. Unlike a conventional PBX, an IP PBX eliminates the need for separate voice and data networks.
PSTN. PSTN stands for public switched telephone network and is sometimes referred to as plain old telephone service, or POTS. The PSTN is the collection of circuit-switching telephone networks, which are now nearly all digital. The PSTN supplies much of the long-distance infrastructure for VoIP.
Network packet. A packet consists of communications data that is broken down before being routed across packet-switched networks. Packet size ranges from 1.5 KB to 64 KB to prevent single large files from being sent.
Network packets are numbered and can take different routes to their final destination, even if they are from the same original file. When the packets reach their destination, they reassemble and convert back into their original file. The parts of a network packet include the header, payload and trailer, which contain all of the information needed to send and receive, as well as the data being sent.
G.711. G.711 is the International Telecommunication Union standard voice codec and digitizes analog voice signals at an output of 64 Kbps. G.711 uses the mu-Law codec for calls in North America and Japan and the A-Law codec for calls in the rest of the world. The codec uses packet loss concealment technology to minimize the effect of dropped packets. Voice activation detection (VAD) reduces bandwidth signals during periods of silence.
G.729. The G.729 codec is similar to G.711 and is a standard for IP PBX vendors. However, it compresses analog voice signals at an output of 8 Kbps. The codec uses VAD to reduce bandwidth during periods without audio. G.729 also uses comfort noise generation to produce slight background noise to avoid user distraction caused by silence or pauses on a call.
SIP. Session Initiation Protocol is used to initiate and terminate voice, video and messaging communications among two or more endpoints on an IP network. SIP determines where endpoints are located, if those endpoints are available and the capabilities of each endpoint. SIP does not provide the actual means of communication between endpoints; it only facilitates the communications sessions.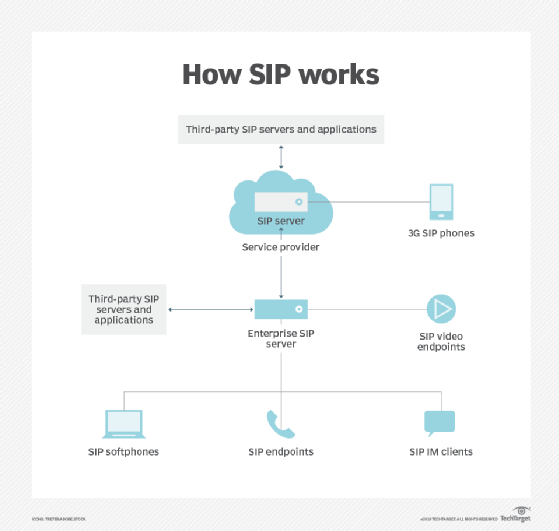 SBC. Session border controllers provide a level of security by acting as a router and only allowing authorized sessions to connect between an enterprise and service carrier. SBCs monitor quality of service for sessions and can act as a firewall to apply its own QoS rules to identify traffic threats. SBCs can be deployed on both the carrier and enterprise side of connections.
New Web-based Management Portal for Teletics W*intercom™ Wireless VoIP & PA System - PRNewswire
Posted: 26 Sep 2019 12:00 AM PDT
CALGARY, Alberta, Sept. 26, 2019 /PRNewswire/ -- Teletics, a market leading manufacturer of wireless systems for harsh environments has today announced the general availability of Harness™, a new web-based management portal for the W*intercom™ wireless VoIP & PA system.
Harness™ is used to remotely manage the Teletics W*intercom™ which is a wireless VoIP and public address system used in harsh environments where wired phones and wired PA systems cannot be used. W*intercom is in extensive use in the oil and gas industry on oil rigs that operate in remote locations.
The Harness™ w*intercom Management Portal simplifies deployment, monitoring and management of the distributed w*intercom network. It allows the management of all deployed W*intercoms from anywhere using the intuitive web interface, which works from any web browser on any device.
"Our resellers will love Harness because it allows them to do a better job but with less effort," says Eric Larson, Vice President of Teletics. "Harness™ lets Teletics resellers remotely manage multiple w*intercom sites from a single portal, from any location. Technicians can do so much remotely: they can remotely change configurations, update the firmware, re-start the device and more."
Resellers will appreciate that they can significantly reduce site visits by proactively monitoring the W*intercom™ system health. Create e-mail alerts so you know immediately when something has changed that might mean the system is not working or even if they device has been moved, which happens sometimes when a company moves offsite.
Teletics' products are used in some of the most environmentally demanding situations on earth. W*intercom™, ZipLine™, and Airborne™ are used throughout the world in harsh environments including oil and gas drilling operations, fuel sites, electrical and gas utilities, mines and chemical plants.
"Our resellers use the Teletics w*intercom combined with the inbound LTE or satellite signal to offer customers on site unlimited long distance, direct inbound dialing, call forwarding, conference calling, and a full featured PBX," says Mr. Larson. "They use the w*intercom to connect provide VoIP phone services on the site, connecting the rig to a trailer or any other location on site that needs a phone and they use it for the loud PA. Technicians have been using the Harness web portal to manage the w*intercoms in their networks and it's saved them a lot of time and work."
Harness™ allows proactive and remote system health monitoring which reduces field service calls.  Email alerts can be triggered to warn you of changes, for example, if one of your W*intercoms™ disappears from the network, indicating possibly that the device has lost power, or it has been moved offsite. Eliminate a field call by taking control: identify the issue and fix it remotely, before anyone notices the W*intercom™ was offline. Remotely update dial plans without going to the site.
Additionally, Harness™ allows the w*intercom to be remotely rebooted at any remote site and remotely update firmware. Harness™ is set up in a hierarchy so the Network Administrator can see all sites while Regional Managers can see only their region. Learn more about Harness™ on the Teletics website, www.teletics.com.
About Teletics
Teletics manufactures high reliability voice, paging, and data communications products designed to work in extremely demanding industrial sites, such as in a chemical plants, drilling rigs, electrical substations, or other industrial environments that require certification for presence of explosive gasses and high degree of resistance to exposure to chemical contaminants or corrosion. We design our products to be easy to use and deploy and to just simply work.

Media Contact:
Eric Larson
587-351-1900
223591@email4pr.com
SOURCE Teletics, Inc.
Related Links
VoIPstudio Announces Zoho Integration - UC Today
Posted: 03 Oct 2019 09:50 PM PDT
VoIPstudio is on a quest, a journey Marketing Director Rob Seymour first shared with me when I started covering its professional-grade VoIP phone services for SMB this year. The SMB Cloud phone system consists of features driven by customer feedback. This year alone, VoIPstudio launched updated wallboard technology at the Call and Contact Center Expo in London. VoIPstudio developers also launched its services in the Spanish and German markets, extending full local language support. This catapulted VoIPstudio into two sizable markets with fresh business prospects.
The SMB VoIP provider even scaled up its Cloud telephony offering by creating a WebRTC integration that gave VoIPstudio users the ability to make Cloud calls directly from Chrome and announced a suite of collaboration tools. This time around, they took on Zoho. The popular CRM platform has 37 million active users and rising, yet another strategic move.
VoIPstudio Introduces Zoho Integration
As it stands, Zoho integrates with seven or eight telecom applications, including call management service providers like RingCentral and Twilio, although this is slim when compared to Microsoft Dynamics and Salesforce which both have countless Cloud telephony integrations. Those who do integrate with Zoho, undergo a rigorous process of testing to ensure bug-free integrations once released, demonstrating a high level of commitment to CX and UX by Zoho, to which Seymour shared:
"Zoho wants to be 100 percent sure that everything is fit-to-purpose upon release"
With its new Zoho integration, VoIPstudio set out to solve an annoying problem for SMBs with contact centers, sales teams, HR departments, etc. VoIPstudio users who leverage the CRM power of Zoho no longer have to consider which app to use to make and receive business calls. They can now use the VoIPstudio-Zoho integration to access call recordings, analytics, and add call records to Zoho's CRM platform.
What's Next for VoIPstudio?
Cloud collaboration tools are only beginning to bud, as one Global Cloud Cloud Collaboration Market Report pointed out. According to the report, the Cloud collaboration market is worth $26 billion and expected to reach a CAGR of 13.42 percent by 2024.
Seymour said VoIPstudio plans to see more positive impacts on business thanks to its customer-driven feature releases. They have more in-store, according to Seymour, who shared they'll soon launch Office 365 and G Suite integrations. When you consider that Office 365 has 180 million active monthly users, and G Suite's five million paying business users – VoIPstudio's customer-centric approach is even smarter.
Future Market Insights predicts, that by 2020, the VoIP market should reach $205 billion in revenue, leaving a sizeable slice of SMB pie for VoIPstudio to capitalize on. They shouldn't have a difficult time gaining momentum in a space slated for such growth, especially with the agility and competitive pricing they bring to the table. This leaves a clear path to SMB Cloud telephony dominance as VoIPstudio increases its global presence, one customer-inspired feature at a time.