---
Japanese delegation visits Madison County - AdVantageNEWS.com
Posted: 04 Oct 2019 08:00 AM PDT
A Japanese delegation visited Madison County on Thursday to discuss economic development and potential business sites.
County Board Chairman Kurt Prenzler and Edwardsville Mayor Hal Patton greeted members of the delegation at the Madison County Administration Building. The Leadership Council of Southwestern Illinois and AllianceSTL organized a two-day trip in the St. Louis region for Keidanren USA, a liaison entity for Keidanren; and the Japan Business Federation and Japan External Trade Organization Chicago, a nonprofit organization that provides business support services to companies expanding to Japan.
Prenzler welcomed AllianceSTL Senior Vice President Jim Alexander, Keidanren USA Executive Director Yasuhiro Uozumi, Consulate General of Japan Chicago Motohiro Hayami, JETRO Chief Executive Officer Ralph Inforzato and JETRO Director Public Affairs Tsubasa Hashimoto. He presented them with a Rivers and Routes pamphlet printed in Japanese as well as a Madison County bicentennial lapel pin.
Gift-giving in Japan is a central part of business etiquette.
The group visited the County Board Room, then settled in a small conference room where they discussed the county and community.
"The growth (in Edwardsville) is fantastic," Patton said. "The quality of life here is what we believe makes it a success."
Inforzato's office covers 12 Midwestern states. He said Japanese manufacturers are coming to the Midwest and creating thousands of production jobs for Americans.
"The past year working with the Consulate General's Office and the Japan Business Federation, we found a lot of little governments they are interested in attracting Japanese production companies," Inforzato said. "We termed that local government self-responsibility. It's actually a remarkable thing." 
He said they had never visited southwest Illinois and like the economic environment.
"We work with local governments to help set the stage to make relationships for you to meet Japanese companies," he said. "It's the first step."
Madison County Employment and Training Director Tony Fuhrmann discussed the opportunities his office could provide businesses when locating in the county with workforce solutions and training.
Circuit Judge Sarah Smith also met with the group and took them on a tour of the courthouse, her courtroom and office. 
Inforzato said it was the first time the group met a judge when touring a community. 
"It's pretty exciting," he said. 
The visit comes nearly three months after local government, economic and academic officials visited Washington, D.C., for a roundtable discussion.
On Friday, the delegation will attend the Leadership Council's monthly meeting, which will include a presentation detailing what they are seeking in development opportunities. The group will also take a tour of Southern Illinois University Illinois Edwardsville School of Engineering, America's Central Port, Gateway Commerce Center and attend Southwestern Illinois College's Manufacturing Day event.
ARCHON like coming home to family for fans - Alton Telegraph
Posted: 06 Oct 2019 04:53 PM PDT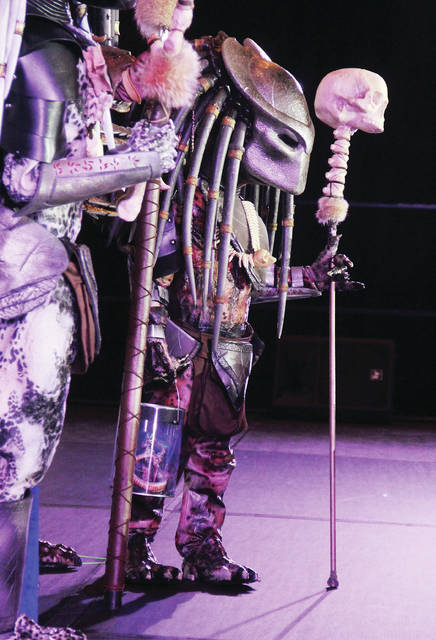 COLLINSVILLE — Jake Klug, of Alton, became initiated into "fandom" over the weekend by his girlfriend and family at ARCHON, touted as the regions premier science fiction/fantasy convention.
On Saturday Klug was dressed as Betelgeuse from the Tim Burton film "Beetlejuice" and watching the annual Masquerade, a costume contest with entries ranging from children and teens to professional costumers.
"I love it, it's so fun," he said. "There's so many nice people here.
"It's a great place to have your first convention. It's a great place to experience the culture."
His girlfriend, Gail Harper, of Brighton, came as Lydia, another character from the movie. She's been coming to the convention for five years.
"I enjoy seeing all the people," Harper said. "I enjoy the sense of community that we have here. It's fun to dress up and express ourselves."
Like many others at the "con," she enjoyed watching the costumes.
"People have so man unique takes on things," she noted. "It's individualistic, and we all come together."
The convention's roots were literary, but it has since branched out into a general con with multiple programming tracks, ranging from author book signings to an entire children's programming track.
But on Saturday night, costuming took center stage, literally, with the Masquerade.
"We've had a great day, the weather has been fantastic," said convention co-chairman Alan DeVaughan, as people lined up for seats to the Masquerade. "Looking around, we have a lot of nice costumes."
The weekend crowd was slightly larger than anticipated, at an estimated 2,400.
"There's a decent amount of younger people, which is great," DeVaughan noted. "I've seen a lot of families, which is a great thing for us."
One trend several people talked about was self-lit costumes, with several saying the technology (both battery size and LED lighting) has made it more practical.
"If you want to do any robotic movements, automation or lighting on your costume, it's very easy now," DeVaughan said.
The convention is "fan-run," with much of the work being done by longtime volunteers and staff.
Josh Patton, an audio technician for the Masquerade, took a few minutes before it began to go through the Dealer's Room, where merchants sold everything from clothing to weapons (both real and costume).
"I have about an hour and a half, so I'm taking my time and going through the Dealer's Room because I haven't had a chance yet," Patton said.
There's a lot of work that goes into the convention.
"As the attendees, you get the party, you get the presentation," he said. "On the staff time, you get three generations of staff members working together."
Much of it is dealing with small details.
"There's a lot you would never know if you didn't volunteer," Patton said. "It's a lot of work."
Also in the Dealer's Room, Lily Grayson, of St. Louis, was having a corset relaced at Curious Cat Clothing, a St. Louis-based costume and clothing company.
Corsets are a common sight at the convention.
"I wore it yesterday and I'm getting ready for tonight, so I'm starting to change my look," she said. "After you wear it a while, you can tighten it a little more."
Grayson said ARCHON is a "great getaway" for the weekend.
"It's like coming home to family, the good kind of coming home to family," she said. "It's people I don't see all year, and I know I'm going to see them here."
Author Angie Fox, who writes paranormal mysteries, described ARCHON as a "great gathering of people who love mystery, fantasy and adventure stories."
"I enjoy just coming as a fan, too," she said, during a book signing that afternoon. "It's a group of people who love the same things I do and are here to celebrate it for a couple of days."
One memory from ARCHON 33 in 2009, was when the late Peter Mayhew, who played Chewbacca in the "Star Wars" films, was a guest of honor.
"My entire goal was to have a beer with a Wookie," Fox said. "You have to have a convention goal."
Next year's convention is set for Oct. 2-4 at the Gateway Convention Center, in Collinsville.
Reach reporter Scott Cousins at 618-208-6447.
Tunica's Gateway to the Blues Museum Invites You to Jam with Us - Blues Festival Guide Magazine and Online Directory of Blues Festivals - Blues Festival Guide
Posted: 12 Sep 2019 12:00 AM PDT
(TUNICA, MS) – Join us in Tunica, Mississippi for a free concert on our Gateway to the Blues front porch stage featuring Big A & The All-Stars on October 9, 2019 from 6-8 pm. Whether you're in need for something to do outside our casinos or you're headed to the Helena Blues Festival, make sure to stop by and begin your blues journey at the Gateway to the Blues located on Highway 61.
The Gateway to the Blues Museum, a fully restored train depot circa 1895, is a must-stop for music lovers and fans of art, history and folklore. You can't miss it with its authentic rustic charm and striking neon sign.
For more information on the free concert, visit visit tunicatravel.com.
Make sure to Tour the Museum Where the Blues Comes to Life
Your blues journey begins! Inside this larger-than-it-looks museum, you will learn where the blues genre came from, why it's called the blues, and how the blending of cultures – African, European, Native American – would ultimately birth the blues. Through interactive exhibits, videos and recordings you can see and hear blues performers. Learn what makes the Delta unique. Hear how Robert Johnson traded his soul to the devil to be able to play the blues like a master. Learn to play the lap steel guitar and the diddley bow. See more than 20 famous guitars on display. There's even a recording studio where you can record your own blues song, then take it with you via email. That's just a short list of what awaits you.
And inside a mesmerizing "starlit" room, encircled by artist George Hunt's deeply evocative paintings of eight blues greats, you will feel like you're right there: in a field, in a juke joint, on the front porch listening to the true stars of the Delta sing the blues as naturally as breathing air. It's truly magical.
Tunica:  Where it Began, Where it's Going Strong
Almost all of the most influential blues artists were born and raised in the Mississippi Delta: B.B. King, Robert Johnson, Muddy Waters, Howlin' Wolf, Charley Patton, Son House, Sonny Boy Williamson, and many others. These bluesmen gave birth to the distinctive high lonesome sound forever after equated with the Delta. Tunica is located on the Mississippi Blues Trail, which features over 200 historical markers throughout the state. If you'd like to visit the six markers in Tunica, the Visitor Center staff is happy to assist with the next leg of your journey, as well as help you find the perfect Tunica souvenir in the gift shop. 
Then make sure to visit Tunica's six resort casinos for table games, slots, live entertainment, lip-smacking dining and more. And plan a stop in the charming town of Tunica itself, cozy, welcoming and steeping with southern charm. 
For more information on the Gateway to The Blues Museum, visit tunicatravel.com/blues.